Recent Projects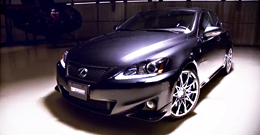 Lexus F Sport Video Project
We worked closely with the F Sport accessories team at Lexus to figure out the best approach to promote F Sport and give it a presence in the market place. We developed 6 segments that were used in dealerships, Lexus TV and social media channels. We are very proud of the success of the videos.
What's New?
Launch of our New Website
For 2012 we have redesigned a website for our company. Over the past few years Head First has been expanding into other avenues of marketing and we needed a site to highlight that. Keep checking for updates of our work and new information about the Head First family.
Driven Racing — What's In The Case?
We recently produced a high-concept video for one of our clients. Driven Racing is a fast growing motorcycle parts manufacturing company passionate about the power of design. That is why we get along so well.
Check It Out
It's the Passion I Guess
We can't help it...our passion is to be creatively challenged. If we enjoy what we're working on, then its not work. At Head First, we are always trying to find or create a new standard in any media we're involved in. If it doesn't please the eye or convey it's message then we don't use it. We solve problems with smart and attractive solutions. Our team is a group of artists creating their own bag of tricks tailored to each project.